Natural stone is a beautiful element in any kitchen and it is going to continue to be a huge design trend in the coming year. Popular choices are slate, travertine, onyx, and marble, and these beautiful materials add elegance and sophistication to any room. But some homeowners avoid them because of the perception that they're so much work. These natural stones are often very porous, and it's true that over time acid-based foods and cleaners can etch them. But if you know how to clean and care for your natural stone countertops, this won't be a worry for you.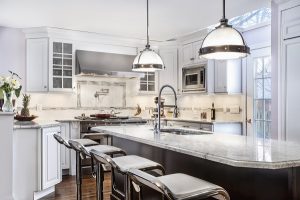 Choose The Right Stone
There are two main designations of stone used in countertops: Calcareous and Siliceous. Travertine, onyx, marble, and limestone are all calcareous stone, which is very sensitive to acids. This is because the stone is composed of calcium carbonate. Siliceous stone, like granite, slate, and sandstone, are a much better choice for kitchen countertops because they stand up to acids better. We can help you choose the right stone for your needs.
Cleaning Tools and Tips
When you're cleaning your natural stone countertops, start with a very soft, damp cloth and a neutral pH cleaner (like most dish soap). Don't use any cleaners that are not made specifically for natural stone, including accidentally getting them on the counters when you're cleaning something else like the stovetop or window. Also avoid abrasive cleaners and scrubbers (including the scrubber on the back of the sponge), as they can wear away the sealant. If you do need to scrub off stuck-on food, use a soft bristle brush and scrub gently in circular motions. When you're done cleaning, dry the stone surface immediately with a soft towel or a blow dryer so that it doesn't spot.
Seal The Stone
Sealing your natural stone is important and it does make cleaning easier, but don't put all of your trust in it. Most sealants are topical and they can help repel things that spill or splatter onto the surface of the stone, but you need to be on top of cleaning up the spills and trying to prevent damage. There are also some newer sealants available that penetrate into the stone and protects it from within allowing stains to be removed. In either case, the sealant doesn't replace the daily maintenance and cleaning that natural stone needs to look its best.
BEAUTIFUL RESIDENTIAL KITCHENS FROM ROCK TOPS FABRICATIONS
ROCK TOPS FABRICATIONS USES THE LATEST TECHNOLOGY TO ENSURE THAT YOUR NEW BATHROOM IS DESIGNED, CUT, AND FINISHED EXACTLY HOW YOU WANT IT. WE HAVE OVER A DECADE OF EXPERIENCE AND HAVE BEEN CONSTANTLY IMPROVING OUR SERVICES AND OFFERINGS TO MEET THE DIVERSE NEEDS OF OUR CUSTOMERS. IF YOU ARE IN THE MARYLAND, D.C., OR VIRGINIA AREA AND LOOKING FOR A BEAUTIFUL NEW REMODELED KITCHEN, GIVE US A CALL AT 410-363-4257. FOR MORE INFORMATION AND TIPS ON MAKING YOUR HOME YOUR OWN, FOLLOW US ON SOCIAL MEDIA AT TWITTER, FACEBOOK, YOUTUBE, GOOGLE+, PINTEREST, AND HOUZZ.